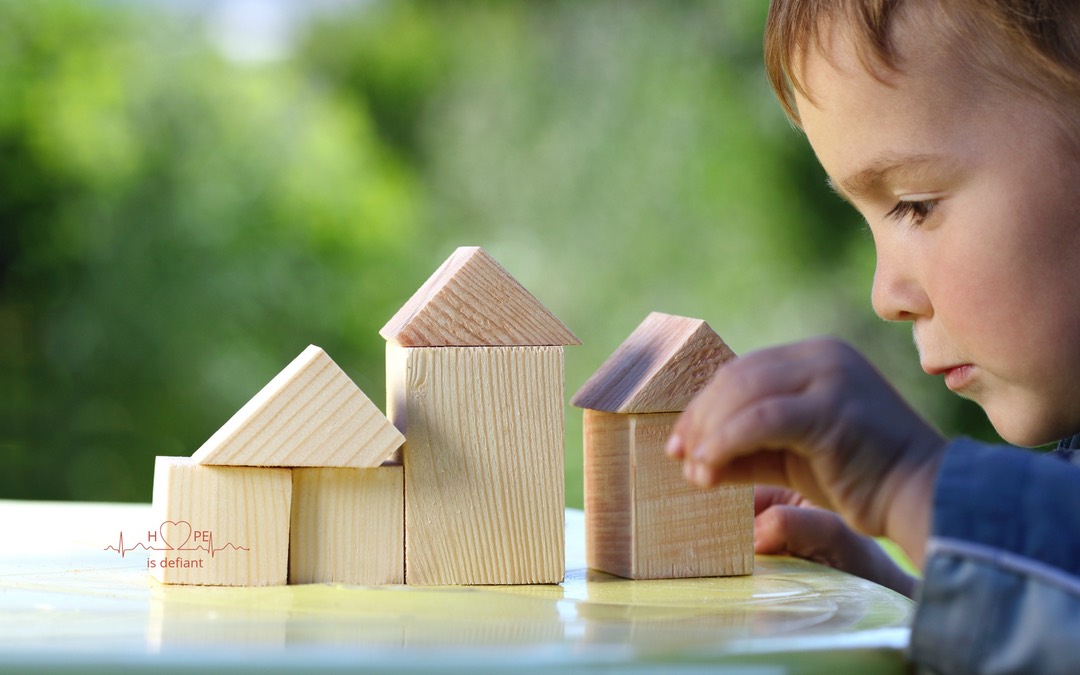 "A soft answer turns away wrath, but a harsh word stirs up anger. " Proverbs 15:1
Have you ever been told in your past? "Sticks and stone's may break my bones, but names will never hurt me." Anyone who taught this probably had only the best intentions in mind when sharing this with their child. The purpose being that child would not allow themselves to be impacted by someone else nasty comments. The problem is that names do hurt, sometimes more than stick or stones.   In fact, this little rhyme may only serve to reinforce the sense of denial that a child is building within themselves when what they are actually attempting to do is to cover up what they're really feeling on the inside through the use of these words.
Words that are spoken to us, especially as children, go straight to a child's heart and have the power to build us up, or tear us down. It is this power, this longevity encapsulated in our words, that we must consider carefully when dealing with our children. The words we speak shape worlds in our children's mental and emotional consciousness. We set them up for success or failure by the very words we speak. When we utter words such as "You're so dumb or you'll be just like so and so," we shatter our children's self-esteem, self-confidence and sense of well-being. Yet conversely, when we say to them, "come on I know you can do it " we lift them up and affirm them in ways that last eternally.
From the time that a child is growing in the womb, right up till adulthood, a child receives such qualities as self-worth, self-esteem, and self-confidence from their parents and other family members, but primarily from their parents. The way most often these qualities are imparted to our children, is the words that we speak to them.
A parent has the profound responsibility and privilege of building a child. As with any building project, the success or failure of the project depends upon the quality of materials and the tools that are used to its completion, but most importantly the foundation that we lay for them. For without such a foundation, the house is doomed to collapse due to a weak foundation. The same could be said about the building of a human being.  A child needs a solid foundation in their lives if they are to succeed in any capacity throughout their life, and that firm foundation can be given to them by the love and affirmation of their parents, from conception and onward for the rest of their lives.
In the Jewish culture, the concept of speaking words or blessings that will cause a child to grow in a positive way is very common. This can be seen in the Bible, in the story of the conception of Jesus.
  Upon hearing of the divine conception within her, Mary the soon to be mother went to stay with her cousin Elizabeth for three months. The purpose of this visit, which was very common at that age. During this time the mother and other relatives could pray, sing psalms (songs) to the child, and speak blessings or words over the mother and child. This was extremely helpful to the mother, as the first trimester is usually the most difficult. Also, according to the Jewish culture at that time, this was very necessary for the child's development emotionally, physically, mentally and spiritually. For this is the way in which they would build the foundation of the child's life. Although the practice of going to a relatives house may not be observed anymore or at least not as much, the practice of blessing a child while in the womb, speaking a father's blessing right after the birth and continuing to speak words of encouragement throughout that child's life is still widely practiced.
When a child lives with parents who believe in them, they instinctively hold a higher view of themselves. One recent study revealed that when teachers have a positive perception of their students, those students score higher on the tests given, even if their abilities are no different from those of their peers. In another study, research showed that juvenile delinquents who had been conditioned by excessive criticism couldn't even recognize praise when it was offered.
If the custom of speaking positive words or blessings towards our children is practiced, the dividends that children and parents alike will receive is immeasurable. If not, then it is never to late to get started. Although the going will be tougher than if this custom was practiced earlier in life, most often the child or adult will respond positively. Here are some suggestions to follow in order to bring positive affirmation into a child's life.
Get Specific
Phrases like a good job or nice going are fine, but they have limited impact because they're too vague. Specific communication is always more effective. Praise that's specific also affects future behavior.  Not only will your child feel encouraged they'll also understand what they did well and will likely build on that.
Learn to Lavish
In order to lead productive lives, children, like all people need more praise than criticism. As parents, it's important to recognize the power of our words as well as the responsibility of affirming our kids and guiding them toward good choices. Even though we know we should be generous with our praise, it's easy to get caught up in the little things our kids do wrong and overlook the things they do right. That's when we need to remember and look for the positive even in the negative, and learn, even ourselves to lavish praise and encouragement upon our kids, even when it doesn't come naturally. Encouragement, by nature, involves creativity and sacrifice on the parents part. But the reward is children who feel good about who they are and confident about meeting the challenges they face.
Dig Deeper
Parents tend to focus their attention on the outward behavior of kids, good and bad. But it's just as important to look beyond the behavior and see your child's character, honesty, diligence, playfulness, respect, and kindness. These inner qualities are essential for your child to grow into a mature adult. Whenever you address your child's behavior, ask yourself, "What is it that I'm affirming?" Even when your child does something good, look beyond the work well done to find and encourage the character trait in your child.
Leave an Impression
When you praise your kids, it's not the words that mean the most. What's even more important is the lasting impression you're creating on your children's lives. Knowing you think they're great will carry them through hard times, loneliness, discouragement, and failure. Maya Angelou once said, "They may not remember what you said, but they'll always remember how you made them feel."
Personally, I have found this concept of positive affirmation to be just as important as the food that we eat and the air that we breath. For words are the food of our heart and spirit, and they can be either nourished and taken care of or poorly provided for; the determining factor is in the quality of our words. I've heard it said before that "a child only needs to hear ten negative things about themselves before they will believe it. In order to reverse such a trait, there must be at least one hundred positive things spoken before a child will forget the curse and embrace the blessing as truth for themselves."
It is my goal now that as a father, to build my children up. It's not always easy, sometimes it is downright difficult to say the things I should instead of the things I want to, but like money in the bank, my words are an investment. For me, this process began when we first found out that we were going to have a baby. I was always praying over and speaking to this precious life that we were given, even while in the womb. When each one was born I spoke a "Fathers Blessing" over each child, by speaking positive words of hope and promise. Even now when they are misbehaving, I try to correct the behavior with words of blessing. Thankfully albeit not always, I have seen a reversal from negative to positive behavior as they are corrected with words of truth and affirmation. Also, when I've used a more negative approach, well I think you can imagine the outcome. The words that we speak are powerful, so let's be ones who build instead of ones who tear down.
"Train up a child in the way he should go [and in keeping with his individual gift or bent], and when he is old he will not depart from it." Proverbs 22:6 Amplified Bible
P.S. Just in case anyone thinks I have it all together and that my kids are doing great, don't. I fail often, but each time I do I ask for forgiveness, I trust God and I try again.